BUSINESS ANALYSIS
The Report Newsmagazine, March 4, 2002, p. 37
Albertans seem to like being cheated
By Mike Byfield
As Ontario prepares to deregulate its electricity sector, its ratepayers might listen to Cornell University's Alfred Kahn, who pioneered airline deregulation in the U.S. This economist, nicknamed the father of deregulation, recently told IEEE Spectrum (an engineering magazine): "I've always been a skeptic about retail consumer choice in electricity." So is Keith Provost, a former chairman of the Alberta Electric Utilities Planning Council (the industry committee used to plan all generation and transmission expansions). Electricity deregulation, Mr. Provost insists, has already cost Albertans billions and is poised to wreak more damage. "I can't understand why there isn't outrage among consumers' says the former senior operating officer for Alberta Power.

Under the provinces deregulation system, implemented January 1, 2001, electricity is purchased on a centralized basis by the Power Pool of Alberta. Generators bid on an hourly basis to supply the province's current load requirement, which ranges from 4,500 to 8,000 megawatts. Those companies who bid too high do not make a sale. However, all successful bidders get paid the rate given to the highest successful bid.

This concept is worth illustrating. Suppose a rancher was intent on buying 100 cows. Would he be willing to let the most expensive animal's price set his purchase value for the other 99 as well? The amount of money under discussion is enormous because power producers in Alberta have a large range of capital and operating costs. The cheapest tend to be big coal-fired plants. Other electricity suppliers burn natural gas but are able to sell the heat for industrial purposes (a process called cogeneration). Most expensive are generating stations which burn natural gas but cannot sell their waste heat; their costs directly reflect prices for natural gas. Under Alberta's power pool auction system, electricity from coal-fired plants fetches the price set by natural gas-fired generation. From the consumers' point of view, it is hard to conceive of a more expensive pricing arrangement.

Natural gas for immediate delivery is currently selling for Cdn$3 per gigajoule at the Alberta-Saskatchewan border. Last year, however, that price peaked at Cdn$12. During 2001, Albertans purchased electricity (including coal-fired) at rates reflecting last winters high gas price. Thanks to that arrangement, Mr. Provost believes, deregulation cost the province more than it spent on education, a thought which might pique the attention of teachers now on strike for higher wages in Alberta.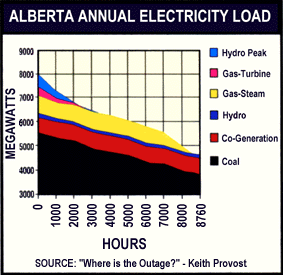 Thanks to the lower gas price this winter, electricity prices are running at levels comparable to the period before deregulation. Because consumers have breathed a sigh of relief, the price drop has temporarily taken the pressure off government to implement reforms. But will gas prices stay down? The plunge was due to mild weather and a recession across North America, which reduced demand. Natural gas storage facilities presently have plentiful reserves. But gas prices are probably at rock-bottom. Already, economic recovery appears to be underway. The weather will sooner or later get worse. At that point, gas and electricity prices will presumably soar as they did last winter.

Why doesn't the power pool simply buy electricity at the proffered prices, not the highest price? Chris Spearman, chairman of the Industrial Association of Southern Alberta, says that idea will not fly because the bidding process is little more than a masquerade. There are only a few major bidders and they know each other's costs very well. "Coal-fired power gets bid into the market at a price which the sellers know is just competitive enough to edge out the more expensive gas-fired power." Mr. Spearman alleges.

Pool spokesman Wayne St. Amour says the highest-price-for-all set-up is designed to attract more competitors. In theory, more competition will yield lower electricity prices in the long run. But that day may never come, counters Mr. Provost, given Alberta's small and isolated market plus a relatively low number of competitors. Even if real competition does occur eventually, he adds. Albertans will have already forfeited so many billions that their losses could not possibly ever be made up by future savings.

Heavy industry has kept quiet because many large companies purchased power from the coal-fired plants under provincial auctions held before deregulation kicked in. These players are guaranteed low electricity rates long into the future. In Mr. Provost's view, the power pool should immediately adopt the same strategy. On behalf of residents and small industrial customers, the pool should purchase electricity from existing generation facilities under long-term contracts at prices which reflect generating costs. Future power needs should be tendered for competitive bids.

© copyright The Report Newsmagazine
---