Pole changes
Pole testing, to be done every seven years, was performed last year for a good portion of the area covered by the Bruderheim REA. The pole testing for the remaining portion of the lines in the area covered by the Bruderheim REA was completed earlier this year. The results are now in and were verified.
The board of directors decided at its 2004 08 30 meeting to go ahead with the work that has been identified.
A total of 18 poles need to be replaced. Of these,
7 are tangent poles (right in line, with no guy wires or special equipment, poles that hardly ever need to be climbed and whose climbability is not a big issue, even more so as more and more work is being done with buckets);

6 are transformer poles (guy wire replacement, new ground, etc. is included with the replacement of those poles);

5 are poles that are neither of the first two kind: e.g. dead end, angle structure, double dead-end, and, in addition to that,

5 poles require stubbing. The stubs are made of metal and are reusable if or when it becomes necessary in the future to replace the stubbed poles. At current prices, that would save us about $187 per pole requiring to be stubbed. Stubbing is used on poles that have butt- or ground-level rot, when the portion of the pole above ground can be expected to be in reasonably good and acceptable shape for a good number of years.
The cost of the pole replacement that will be done this year will be a little over $42,000.
The following comments and photos relate to examples of the poles that will be replaced.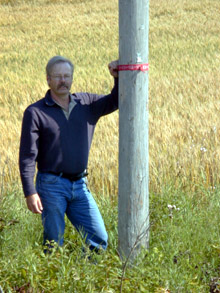 Poles that look good are not necessarily in good shape. This one has butt-rot at ground level, and it is infested with carpenter ants a few feet up from ground level.

The same with this one; and it was installed only in 1982.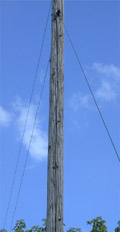 I couldn't get far enough back to be able to take a full shot of this pole. It doesn't look all that bad, but you have to see the top of it, and that is shown in the next photo.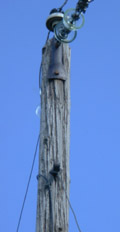 Would you feel safe when climbing such a pole? Actually, although this pole will be replaced, some poles like this one are severely weathered and quite sound. Besides, many such poles haven't been climbed for the last 15 years or so and will probably not be climbed in the years to come. Many such poles are tangent structures, poles that stand in the middle of a power line and rarely need any work to be done on them. Most likely, when it needs to be worked on, which is not likely to happen, a bucket truck will be used by the line man working on such a pole.