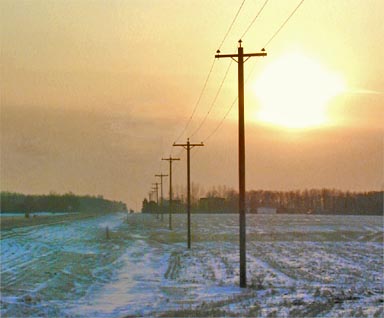 As of January 1, 2007, the Bruderheim REA amalgamated with Battle River REA.
Just as the Battle River REA is now, the Bruderheim REA was a member of the Alberta Federation of Rural Electrification Associations (AFREAs).
The benefits of membership in the AFREAs are calculated to be close to $100 per member service for rural electric services in Alberta for each of the past two years (2000 - 2001) — at an annual costs of $15 per year per member service. Those benefits apply to all rural electric services, whether they are owned by members of the AFREAs or not (to a considerable extent, the powerful voice of the AFREAs benefits even urban power consumers). However, if it were not for the public relations work, lobbying and interventions by the AFREAs, none of those benefits would be available to anyone; and that would come to pass if every power consumer in Alberta wanted to go along for a free ride. Freeloading does not pay. In the long run it will harm us all.

The web pages of the Bruderheim REA are being kept for historical purposes and to inform REA members in the Bruderheim and Lamont areas of issues that may be of interest to them

You reached the website of the Bruderheim REA, a rural electrification association owned by owners of electricity services in the rural area surrounding the Town of Bruderheim, Alberta, Canada, roughly 14 miles NE of the City of Fort Saskatchewan.
Effective January 1, 2007, the Bruderheim REA amalgamated with the Battle River REA. As the web pages of the Bruderheim REA attract a fair and increasing number of visitors each month, they are being maintained for historical purposes and to serve the interests of their user community.
These web pages are not affiliated with Battle River REA and do not necessarily reflect the opinions of the Battle River REA or its Board of Directors.
A few highlights: